Choose Brand You are interested in
We design and make upholstery and accessories that turn an ordinary cabin into a cozy second home. What distinguishes us? Excellent quality at an affordable price and solutions for every budget – with us you don't have to spend a fortune for a comfortable and customized space in your truck. Our truck upholstery products are sutible for trucks like: DAF, MAN Tgx, MERCEDES MP4/5, SCANIA and VOLVO
Interior styling for trucks
What do we offer?
Elegant yet simple? Or perhaps luxurious? Modern and minimalist or rather with a wealth of patterns, and different textures? Or just vintage? Custom upholstery will give the interior of your truck a completely new look – one that suits you best! Also, we will integrate it with the style, character and color scheme of the vehicle to create an attractive unity.
We make complete truck upholstery and accessories, including: seat covers, seat corners, bed panels, floor mats, dashboard mats, door panels, sunshade panels, window bands and curtains, tunnel covers. We choose materials that meet the challenge of life on the road. We custom design the products so that all elements fit perfectly. Quick and easy to assemble and disassemble.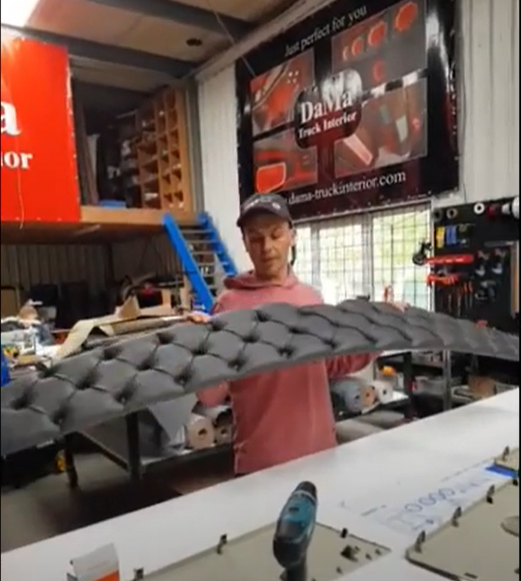 "Sun screen" installation in truck VOLVO FH4
The latest video that we have prepared for you are the instructions for installing the panel underneath the top shelf in Volvo FH4.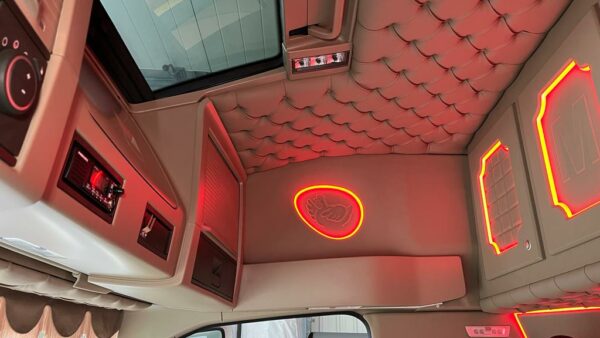 New Project/product for VOLVO FH5!!
New beautiful project of our client Maasland Eieren!!
Door cards to fit Scania Next Generation 🚪🛠🚚💨
Hi everyone!! In this new film we would like to show you how you can install our door cards (in this film we have them with buttons) in truck Scania R or S Next Generation.
---
---
Ordered mats, curtains, pelmet, and cloud curtain through Da Ma and certainly wasn't disappointed. I'll be the first to admit I am extremely fussy when it comes to quality, but everything was perfect. I seriously underestimated the quality, will certainly be using Da Ma again in the future
Highly recommended, so helpful enquiring about different bits and also helping with fitting. Quality is amazing, mats fit perfect! Wouldn't buy interior from any where elsern
Fantastic service, and the floor mat looks and fits superb, and really great quality
Check our realizations
Customizing and styling truck interiors is not only our work, but also a passion – so the more difficult, the more original the idea, the more enthusiastic we are. You can count on our 100% commitment and good advice: we are happy to share our knowledge and experience gained over the years. We are proud of every project, and we put our whole heart into every project – check out the results and get inspired by the work we have created together with truck drivers from all over Europe.
---
Our mission? Simple – we want drivers to feel at home in the truck, at ease, comfortable and safe, and therefore get more pleasure and satisfaction out of their work.
Visit us in our shop in Sittard. Delicious coffee is always ready for you! Every day our team is ready for a fast and excellent service. It is important to us that every driver finds something to his or her taste in every budget. Whether you have questions about one of our products or are not sure how to assemble a part, we are here for you!
Good service and excellent quality of our products is and always will be our greatest value.
---
Happy truck driver in his second home
Being a truck driver is more than a profession. It is a tough and responsible mission, without which it is difficult to imagine today's world as comfortable. At DaMa, therefore, we want to help make every drive at least a little more pleasant and convenient, and ensure that your home is always close by, even if you are thousands of miles away.
The truck is the other, but still home, though it's not easy to feel that way. The gray, dreary, dilapidated cab looks like nothing to the driver's eyes day in and day out.

However, it only takes a few additions to change that. New upholstery and a few accessories mean not only better looks, but also more comfort and safety.
We design and make upholstery and other accessories for DAF, MAN, MERCEDES, SCANIA, VOLVO, IVECO exactly like an expensive suit. In addition to quick and trouble-free installation and removal, make the interior of your truck perfectly neat and aesthetic. Material, design, pattern, colors, texture, finish and individual logos – we match all these elements to the make, model and style of the truck, and at the same time to your ideas. We achieve the effect of original equipment, while giving the interior a personal touch.

Do you have plans to change the interior of your truck? Already have an idea to give it a new character, to reflect yourself in it? Or maybe you don't know how to go about it at all? Our team is at your service – we talk to you, advise you, help you and prepare the project, then we carry it out and send all the products directly to you.