Far away from home, at the intersection of highways, on the road over endless routes, truck drivers deserve a place where they can rest. For their comfort, increasing attention is being paid to the design of the space that is the sleeper cab. Therefore, today we are going to see what innovative solutions can be used to make the sleeper cab of a truck safe, comfortable and with great interior design.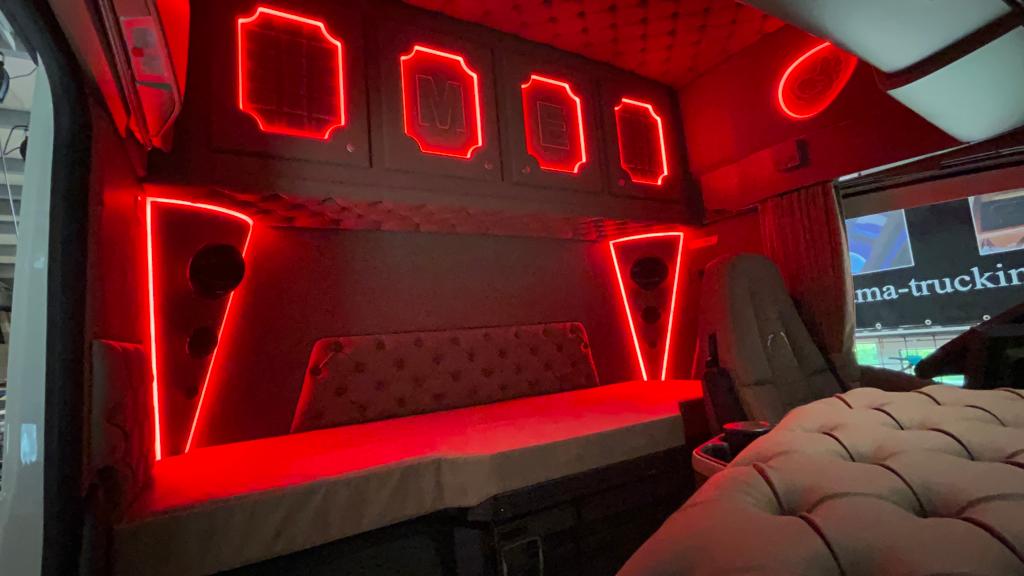 Sleeper cab – space planning in a truck
Planning the sleeping area in a truck is crucial to ensure driver comfort during long trips. It is worth paying attention to several aspects to create a functional and cozy resting place. First, it is necessary to carefully analyze the available space and its dimensions to manage it accordingly.
Therefore, it is very common to choose ergonomic, multifunctional solutions in which you can store essential items without taking up extra space. Also remember that the proper arrangement of furniture and equipment affects the ergonomics of the interior and freedom of movement in the sleeping space.
Ergonomic sleeping areas in trucks – bed and mattress
Let's talk about what should be in the sleeping cabin. The elaborate furnishings should be fully adapted to the dimensions of the room. Nevertheless, there are some things that simply should not be missing here, such as a bed and a mattress.
This is mainly because sleeping comfort is extremely important for drivers who spend long hours behind the wheel. Make sure the bed is comfortable – ideally, it should be fully adjusted to the width of the body. It is worth investing in a mattress with the right firmness and height to support your body's recovery while you rest.
Comfortable sleeping space for truck drivers – room for personal belongings
The use of modern technology regarding the thoughtful storage of belongings and items in sleeping cabs is one of the main challenges in the projects. On the one hand, sleeping cabs should be designed in such a way that the driver has easy access to all the necessary items and can fit them in them especially when he sets off for a long trip. On the other hand, it should not be forgotten that the floor area of sleeping cabs is small.
Therefore, it is advisable to invest in practical storage solutions for the different types of built-in cabinets to keep everything tidy and comfortable on the road. One such solution is wall cabinets, which you can attach to the walls of the sleeping cabin. You can store clothes, documents or personal accessories in them neatly and easily accessible. It can also be a good idea to attach hooks or holders to the cabin walls so that the driver's clothing or other personal belongings have their own place.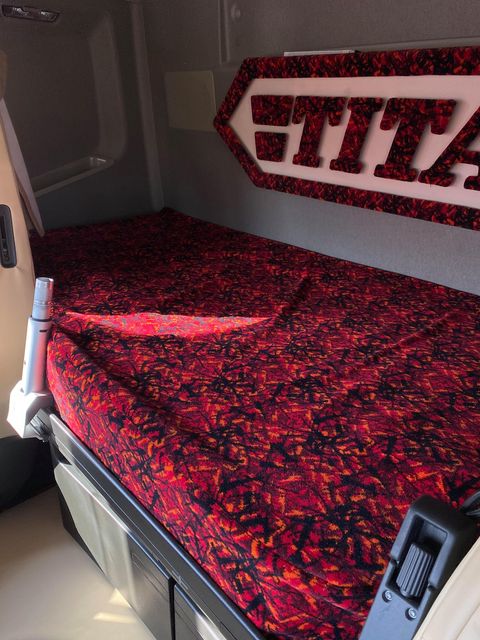 Sleeping compartments – spacious shelves for your onward journey
It is good if the truck's rest area is equipped with slide-out shelves and drawers. This allows the driver to utilize the space and keep the cabin tidy. It is also worth considering the use of flexible organizers – such as nets or Velcro holders. These allow for quick and easy storage of small items such as cell phones or keys.
In addition, the drawers themselves sometimes feature several organizers that divide them into separate sections. This makes it much easier to keep everything neat and tidy.
Sleeping space in a truck – materials are also important
Choosing the right materials is not a simple matter. It is best to choose lightweight but highly durable fabrics. High-quality upholstery is also worth considering – it should provide comfort, but also withstand intensive use. In addition, appearance is also important: a well-organized, but also aesthetically pleasing space has a positive effect on maintaining alertness, concentration and mental clarity. A room that is pleasing to the eye also improves mood! Robust and aesthetically pleasing upholstery for trucks can be found at DaMa Truck Interior. Check out our realizations!
Design of truck sleeper cabins – lighting and ventilation
Lighting and ventilation are two other important aspects that affect the comfort of daily activities in the cabin. However, a modern design can easily meet these needs. As for lighting, it is worth investing in energy-efficient light sources that not only consume less energy but also emit a more pleasant light to the eye.
Ventilation and parking heating
Ventilation and vents are as important as the other components that make up an ergonomic and functional sleeping cabin. It ensures proper airflow and maintains the right temperature. After all, long-distance travel is very demanding and drivers sometimes travel through areas where temperatures are very high. Windows that can open are unfortunately not enough in this case!
How do you keep your leisure time comfortable? Accessories to make life easier!
What would an interior be without accessories? They are both functional and contribute to the aesthetics of the entire room. It is no different in the case of the bedroom cabin. For example, blackout curtains are one of the most important elements that belong in such a space. They not only provide privacy, but also effective shade from the sun and other light sources, which is very important, especially when the driver is trying to unwind during the day.
Pillows are another essential item that should not be missing from the bedroom cabin. No matter if they are used to support the back while reading or to improve sleeping comfort, they serve a purpose for the driver and also make the cabin a little cozier. Regardless of how comfortable the bed itself is, pillows can also make a big difference to the quality of sleep.
We invite you to check out our offerings. We deal in maximum ergonomic furnishings for sleeping cabins. At DaMa Truck Interior you will find, among other things, the right curtains…. With our services and products we want to ensure that professional drivers can travel comfortably around the world. We invite you to check out our offer!
FAQ
Why is it important for the sleeping compartment in a truck to be well designed?
Innovative truck bedroom solutions are essential for driver comfort on long trips. It must provide a comfortable sleeping area, adequate storage space for personal belongings and effective ventilation.
What should be in a well-designed truck sleeper cab?
A well-designed sleeping cabin should include elements such as a bed and mattress that fit the dimensions of the room, practical storage solutions (such as wall cabinets, pull-out shelves), adequate lighting and ventilation, as well as extras such as blackout curtains and pillows to increase comfort.
What accessories contribute to the comfort of the sleeping cabin?
These include blackout curtains, cushions, seat covers and floor mats. Curtains provide privacy and effectively shield the sun and other light sources, which is very important for driver rest. Cushions serve as back support and improve sleeping comfort.