Trucks have one fundamental goal – to deliver goods to their destination without damage and within the contracted time. Drivers spend up to several days in their trucks to meet the shipper's time requirements. Many of them call the cab of their vehicle their second home. It is worth customising it a little and choosing the interior of the truck to customise its exterior and interior appearance a little.
The truck's appearance can be improved!
A tractor can hardly be called a personal means of transport – it is a purely useful vehicle designed to transport goods over short and very long distances. Therefore, they are equipped with powerful but unpowered drive units with very high torque, high suspension and many other technological solutions that improve the process of delivering various items from the loading to the unloading point.
The specifics of a driver's profession are therefore tailored to the expectations of this sector. These are clear and unambiguous: the goal is to get the goods to their destination as quickly and safely as possible. Any stopovers, unplanned stops and breakdowns significantly extend this time, as do inadequate manual skills of the driver. What does this mean? A very unfavourable work rate, with drivers having to spend up to several days in their trucks.
Is it worth improving the appearance of trucks? As it turns out – absolutely yes! Trucks, in which many days are spent, should have a comfortable interior and an attractive exterior, draw attention to themselves and give the impression that they are very well cared for and designed by the best specialists.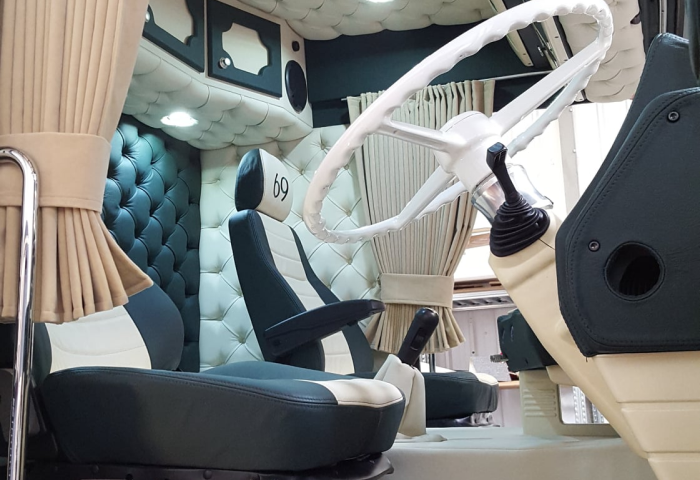 Is it worth choosing a professional truck interior?
Definitely! Changes to the exterior or interior are generally quite easy to carry out, but sometimes expensive, leading many people to refrain from doing so This is a mistake – some truck modifications can be carried out in stages without putting pressure on the company's budget or finances, simply by planning well and monitoring the progress of the work. It is the perfect solution for people who only want to change the interior, for example, to improve their daily comfort, as well as those with great style on the outside who only want to paint or upholster their car.
Truck styling – where does it start and where does it end?
The beginnings of tuning are pretty much the same for all truck drivers – most put a sign with their name or nickname behind the windscreen when they start, others hang interesting pennants next to it, and still others put small stickers directly on the doors or bonnet of their vehicle. This is a pretty modest start, however, because appetites always grow with food, and in the case of big, bulky trucks, the possibilities for creativity are basically limitless. It is worth making the most of it. In practice, most people don't stick to the basics, which is no surprise. It pays to exploit all possibilities and create a solution tailored to the customer's needs and expectations.
The most interesting design solutions – what to choose?
Truck styling starts innocently enough with a small accessory or label and ends with a complete redesign of the vehicle. The most noticeable changes involve body components and additional accessories, which the driver can easily fit himself or by an external company specialising in this particular task.
External tuning
An external tuning can be easily noticed by visible tubes, brilliant lighting or unusual colours and patterns that are hard to miss.
Tubes
Tubes with a large cross-section, preferably completely covered in chrome, had a purely practical purpose until recently – to protect the main mechanical parts of the vehicle in case of a collision with animals or obstacles loose on the roadway. Tubes were then much easier to replace than whole parts such as the radiator. Nowadays, tubes have mainly an aesthetic purpose. The tubes have a large cross section, are visible from a distance and give the impression of being strong and massive, which is why many people think trucks decorated in this way look like trains.
Spoilers
This item does not refer to spoilers mounted on the rear of the vehicle, as in passenger cars, but to spoilers that mainly improve aerodynamics, for example spoilers mounted on the roof of the vehicle. The intention is to reduce air turbulence, but also to make the vehicle more attractive – spoilers can have fully refined shapes, unusual colours or extra halos, thus improving the appearance of the whole car.
Additional lighting
Single LEDs and complete LED backlights, complete halogen lamps or powerful, intense light bars form the basis for the optical tuning of any truck. The individual light sources can be placed practically anywhere – on the spoilers, around the trim, on the roof and even on the underside. The lights are especially visible at night and, with the right design, can attract a lot of attention on the street. Especially when different colours are combined.
Stickers and patterns
Truck drivers prefer unconventional solutions and unusual ways to make their truck more attractive. One of these is changing the colour by painting the bodywork – a very expensive solution – or by veneering – a much cheaper, quicker and reversible modification. The advantage of veneering is that it can be applied to almost any part of the bodywork and can also be taken off again if necessary. The same applies to stickers, for example from the manufacturer of a vehicle or its fan club.
An even more expensive solution is an airbrush, a painting instrument that artists use to paint their visions with varnish. It is a very difficult and time-intensive, but also expensive job, which is why it is mostly done by classic tuning enthusiasts.
Interior tuning
Cab tuning is the solution of utmost importance for those who want to increase their own travel comfort and improve the interior style. Any solutions will necessarily be seen mainly by the driver and passenger, who will feel more luxurious and elegant – unlike a vehicle that has just come from the factory.
Interesting colour matching
Interior designs are mainly based on the colour scheme – standard trucks are black and dark grey inside, gloomy and overwhelming, and as a result not optimistic for a long multi-day drive. Within the realm of internal tuning, this can be completely changed and absolutely extraordinary solutions can be created – choose red, deep brown or even purple and abandon black and the ubiquitous grey altogether in favour of cheerful colours and beautiful combinations. However, matching colours is a delicate matter, as it is possible to overdo it and create an unattractive combination by using too many colours.
Vehicle interior lighting
The interior lighting of the vehicle is also of great importance. LED strips in the recesses of the centre console elements and door sides look modern and very exclusive, elegant and unusual, really attracting a lot of attention. Especially at night when driving down an unlit street, when the ambient lighting looks like lighting straight out of a car magazine. Any recesses, decorative panels, handles and door handles and even the entire floor and ceiling can also be illuminated.
Decorative accessories
It is also a good idea to replace original parts with accessory parts, for example. foot mats, seat covers, door panels, curtains and much more. This type of solution has one big advantage: it can be replaced in seconds, without special tools and without visiting special workshops.
Which style to choose?
The style of the truck has a fundamental influence on the outcome of our activities, which is why it is so important to match it with the driver's expectations.
Retro style – is mainly focused on nicely padded, lots of velour and velvet, and fine decorations to give the impression of retro style. LED backlights are worth replacing with large crystalline lights.
Modern style – is the opposite of the above solution, using completely smooth, glossy or matt surfaces and complemented by invisible, contoured lighting.
Luxurious style – choose premium materials, such as natural leather with a wonderful scent, dark, muted colours and soft, subtle lighting.
As is clear, the style of trucks is basically arbitrary. It is possible to follow just one path, or combine at least a few and create an unconventional eclectic style.
Truck interior – which materials to choose?
Of course, it is always a good idea to use only high-quality materials and plastics for the finishing details, which will look as good on the day of purchase as they do after several years of intensive use. But that's not all – good quality is also visually noticeable, not just through the feel or durability of the selected parts.
Natural leather is fundamental – it smells great and looks even more beautiful, luxurious and elegant, matching almost any style bordering on elegance. It can be smooth or quilted, with or without visible grain, suede or nubuck.
Velvet is an equally popular material – it is a glamour-style fabric that is optically soft and just as soft to the touch. It has a distinctive long pile, reminiscent of the upholstery of luxury sofas from a previous era.
Alcantara is a sportier material – mainly used in motorsport. It is mainly characterised by the variable position of its bristles, so that when you run your hand over it, a reflection is left on the fabric. It is an excellent choice for sports-oriented vehicles.
It is also worth redesigning security systems and relying on improved multimedia devices, including tablets to watch movies, television or music videos on. High-quality materials are equally important – they should allow years of intensive daily use and always look very luxurious.
FAQ
What is truck interior design?
The interior of a truck fresh from the factory is usually black or grey. It is worth changing this and completely redesigning it to make the cabin live up to expectations. Choose unusual colours, install additional lighting and modern multimedia equipment, such as a projector, computer or tablet.
What is exterior tuning of a truck?
Optical tuning of a truck can be done in several ways: extra piping, powerful contours or spotlights can be chosen, as well as beautiful, unconventional paintwork or upholstery.
What is most important in truck tuning?
The most important factors are quality and craftsmanship. Low-quality materials wear out quickly and look bad after only a few days or weeks of use. Therefore, it is wise to choose high-quality products that are durable enough to last.