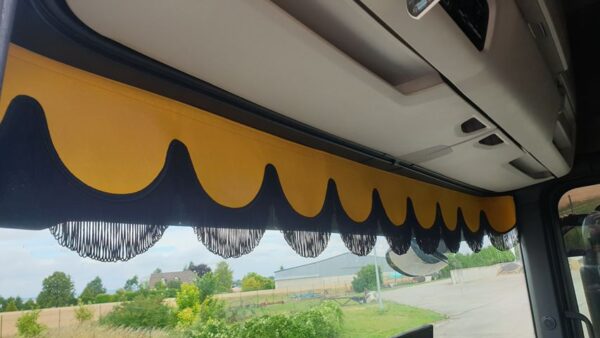 Our curtains are made from the highest quality curtain fabrics.
Pelmet for DAF XF 106
The window bands for the DAF XF 106 are not only quick and easy to fit and remove, they are also extremely practical for routes on sunny days. This is because they block the sun's rays, so they do not get in the way while driving. All our products are custom-made, using only the highest quality materials, so they stand for excellent quality and durability. Our window bands are custom-made products, which is why they impress with their uniqueness. They are also a decorative element that creates a cosy and aesthetic atmosphere in the cabin. The visual aspect is extremely important, because in the cab you spend most of your time, at work, while driving or during breaks. In our shop, you will also find other truck products that form a set with the window bands.
---
If you want to order, please contact us!
---
Other products for DAF XF 106
---